A while back I offered Adam a Cerakote finish for a Beta test. Parts arrived and here is the progress.
This is what we started with.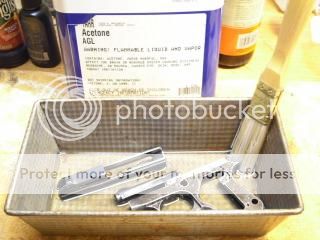 A bath in Acetone to completely de-grease.
Then into "Master Blaster"
After blasting it gets another acetone bath then into the oven to bake an hour.
This causes any residual oils to come out.
Then another bath.
Hang and shoot. I use an airbrush.
Then Bake at 250 degrees for 2 hours.
Once cooled, it's done
End result.
If this product holds up as advertised, we will ramp up and soon be offering our services and many colors are available.
It can also be used on polymers as long as they can withstand 200 degrees.
JEFF